OUR NEWFS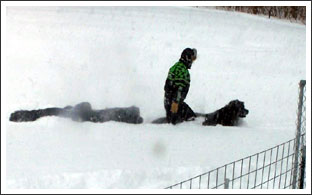 We wouldn't want to miss a chance to introduce you to our resident Newfs!
Chelly, Esther, Cash, Clara, Kizzy, Lola, Piper,  Jovie, Dali, Ava & Jelly are mainstays at SouthShore Newfoundlands. Below Chelly enjoys an afternoon in the park with her brother, William from Denali Farms. To the bottom left, you see Chalupa at 7 weeks old and to the right, Chelly romping in the grass as a puppy. My how time flies!
Chelly
Chelly is our foundation bitch and everything about her has endeared us to this magnificent breed. She is sweet with soundness and type. Chelly is an American Champion, a canine good citizen CGC, a registered therapy dog TDI.  She is the mother of our Cash and Esther.  Grandmother of our Piper & Jovie.  Great grandmother to Jelly.  We unfortunately lost her too young to Osteosarcoma, August 29, 2012.
Esther
Esther, like her mother is an American champion and a wonderful Newfoundland girl! She has proven to be an exceptional mother, both to her offspring and all the dogs at SouthShore. Her temperament and expression are soft and sweet. She is the mother of Matilda, Piper, Jovie, grandmother to Jelly and half sister to Clara.
Cash
Cash is the big man at SouthShore although we call him our Little Buballa. He is  an American champion who finished at 16 months with 3 majors!!  He is also a Canadian Champion.   He is sweet, sassy and smart!! He is currently in training for his WD, CD and DD. Cash has all of his clearances and is available to stud for approved females only.
Clara
Clara is from Whisperhill Newfoundlands in New Hampshire. She was fine addition to our kennels as our comedy relief and all around toy playing girl!! She is tall and sweet with a fabulous disposition.  Thank you Kim and Russ!  She was retired to a fabulous family home in Vermont ~ she's living the dream.
Lola
We acquired Lola from Mooncusser Newfoundlands in Orleans, MA. She is a dream girl I waited for! I saw her mother, Cynthia, as a 6 month old at a show and fell instantly in love. I was unable to purchase Cynthia, but as soon as she became a mother, I was first on the list for a daughter! Lola is sweet, soft, pretty, and moves like a dream … she is a fabulous Newf. Lola is as amazing a mother as she was in the show ring!  She finished her American championship with 5 majors!!  Lola is the Newf that all other People and Newfs love and befriend! Thank you, Suzanne!
Kizzy
Kizzy is a Chelly granddaughter we received from Denali Newfs. She is very pretty, sound and too smart for her own good! She has a lot of energy that will benefit her in the ring when her owner takes her out for conformation this year! She won BOB at her first match!! She will definitely be a star working dog!! Thank you, Sue!  Enjoy our bizzy Kizzy ~ Erica!
Henry
Henry is Piper's brother and big boy!!  He lives with his family in Fall River MA and we are waiting for him to mature and get into that big conformation ring!!  Handsome & sound ~ sweet & a wonderful companion!! Keep up the great job Erica Diogo!
Piper
She is Esther's daughter, Chelly's granddaughter, Cash's half sister, Kizzy's cousin, Clara's cousin, Lola's second cousin and Jelly's mother! She is beautiful, sweet and smart with a very how-do–you-do kind of attitude! She also has the distinction of being our first bred-by OFA rated excellent hips!!  She is very promising  and we have high hopes of showing and finishing her in 2013.
Jovie
Jovie is probably the most beautiful of all our newfoundlands.  She moves like she is running on air and can soar over 4′ fences as if they were not there at all.  She is an American Champion with her first major won at working dog show for 5 points!!  Her father won Judges Award at the Newfoundland Club of America's Top 20 as well as 1st Award of Merit in 2013.  She finished her championship with 2 more majors at the shows in Balston Spa NY.
Dali
One of the youngsters at Southshore. Her father has the distinction of being the only Newf in history to get 3 back to back BEST IN SHOWS!! She is lovely and sweet and just growing up! Loves to swim and my girl always has something in her mouth to carry!
Ava
Clara's youngster is very much like her mother.  Very sweet & funny!!  Great type and big hopes for her in the show ring…
Jelly
Last but not least, our youngest at this time.  She is my first true Southshore kid.  Her parents Piper & Cash were both bred by myself.  She is a fantastic puppy who never puts a foot down wrong.  She is lovely and smart!  Her unusual name is a family name, her great great grandmother is Jello, Her great grandmother is Chelly ( my foundation & my heart) …so Jelly it is!!
All of our Newfs are also family pets as well as show dogs, working dogs and breeding stock. We live with them and know them. We hope you have enjoyed learning a little bit about our Newfoundlands. We always welcome visits and any questions you might have!!