How to Purchase a Puppy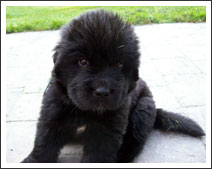 The first step in purchasing one of our puppies is to complete and return our Puppy Questionnaire. We will continue to have additional information on this website as new litters become available in the future.
Things to Ask When Adopting a Puppy
Some things to keep in mind if you are considering adopting a Newfoundland:
Make certain that the person from whom you are buying your Newfoundland is experienced and reputable.
You should be able to see the mother and her puppies. Newfoundland puppies are curious and friendly and should be approachable.
Ask to see the AKC registration for both parents or litter.
Determine whether the mother, father and puppies have been cleared by a cardiologist.
Find out whether the mother and father have been rated by the Orthopedic Foundation for Animals (OFA) for orthopedic problems.
Ask whether the parents have been screened for cystinuria.
Finally, determine whether the mother or father have any working titles.
If you've ever said to yourself, "I don't want a show dog, I just want a pet" – this blog post is worth your time!